चरण सिंह और कांग्रेस राजनीती, एक भारतीय राजनीतिक जीवन, १९३७ से १९६१ तक, खंड १
चरण सिंह और कांग्रेस राजनीती, एक भारतीय राजनीतिक जीवन, १९३७ से १९६१ तक, खंड १
२०१६, सेज प्रकाशन, दिल्ली
This is the Hindi translation of "An Indian Political Life: Charan Singh and Congress Politics, 1937 to 1961" that focuses on the role of Charan Singh, a prominent rural intellectual and peasant leader of India, in the politics of the period while providing a broader perspective on the major issues, controversies and developments of the time.
The book is the result of a careful study of Charan Singh's personal collection of political files coupled with a series of extensive interviews with politicians, public personalities and local people. It provides an account of the principal issues and events of the period, including Hindu-Muslim relations, the conflict between the Nehruvian goal of rapid industrialization and the desires of those favoring primary attention to agriculture, issues of law and order, the rise of corruption and criminality in politics, the place of caste and status in a modernizing society and the pervasive factional politics characteristic of the era. 
This work is much more than the biography of an important politician; it is also an analysis of issues, movements and political conflicts that marked the late pre-Independence and early post-Independence era.This book is the first volume of a multi-volume work on The Politics of Northern India: 1937 to 1987.
The book was released by the Vice President of India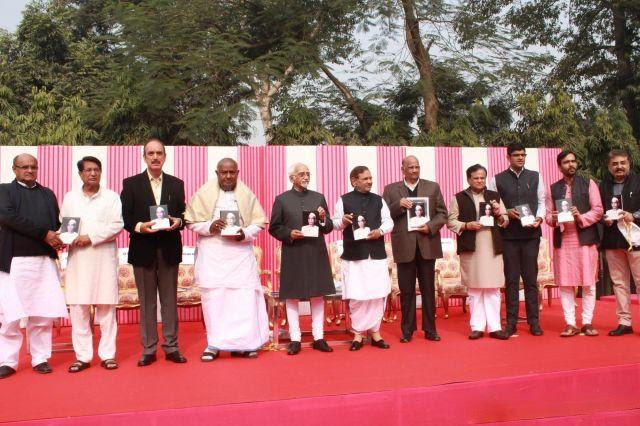 23 December 2016, Release of translation of book by Paul Brass on Charan Singh - चरण सिंह और कांग्रेस राजनीती, एक भारतीय राजनीतिक जीवन, Political leaders holding the book with Vice President of India Hamid Ansari (5th from left) - (from left), KC Tyagi, Ajit Singh, Ghulam N Azad, Deve Gowda, Sharad Yadav, Sharad Pawar, Ahmad Patel, Dushyant Chautala, Jayant Choudhary and Sage MD Vivek Mehra.